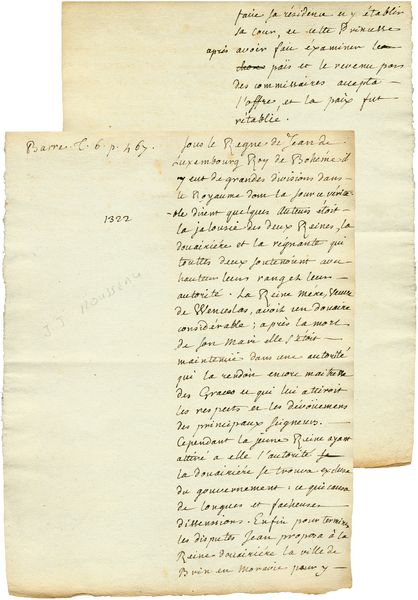 一次偶然的机会从eBay上拍卖所得, 我深深钦佩卢梭的真实!
| | |
| --- | --- |
| Jean Jacques Rousseau Handwritten Manuscript |   |
 

   

JEALOUSIES BETWEEN DOWAGER AND REIGNING QUEEN

933. JEAN JACQUES ROUSSEAU (1712-1778). Influential Swiss born French philosopher and one of the most eloquent writers of the Age of Enlightenment. He believed that humanity is essentially good but corrupted by society. Among his best known works are The Social Contract and Émile (1762). Rare unsigned manuscript in French, 1¼pp on single leaf, 7½"x10″, ca. 1746-51. Probably prepared as part of a projected work on the history of women that Rousseau undertook at the insistence of his patron, Mme. Dupin, while in her employ as secretary. In part, "During the reign of Jean de Luxembourg, King of Bohemia, there were great divisions throughout the kingdom that truly originated, some authors said, in the jealousy between the two queens, the dowager and the reigning queen, who had both haughtily defended their rank and authority. The queen mother, King Wenceslas' widow, enjoyed a considerable domain; after her husband died she had maintained a degree of authority that kept her the mistress of the Graces and brought her the respect and devotion of the principal lords of the kingdom..." Darkly penned and easily legible. Light general toning, a bit darker at edges; else Fine.